Brief
Driving Conversions with Marketing Automation and Video
Increase conversions by making video a seamless part of your content marketing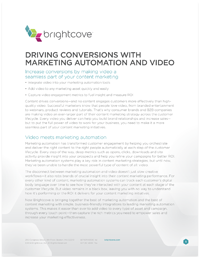 Marketing automation is transforming customer engagement, helping brands deliver the right content to the right people at the right time more effectively than ever. But there's a catch: marketing automation systems have been unable to handle video, the most powerful kind of content of all — until now. By introducing simple, business-friendly integrations to leading marketing automation systems, Brightcove is making it possible for the first time to bring together the best of marketing automation and the best of content marketing.
This executive brief provides a high-level overview of Brightcove's new content marketing integrations. Download it today to learn about:
Using video to get even more out of your marketing automation investment
Making it simple for marketing teams to incorporate video into all your campaigns and programs
Capturing rich video analytics in the same environment as other forms of media for unprecedented insight

Driving Conversions with Marketing Automation and Video
All fields are required.