Content Marketing Best
Practices Research
Download five essential research reports that every
marketer should have:
Boost Your Content Marketing Ecosystem with Video, Forrester Research
B2B Content Marketing Benchmarks, Budgets & Trends, Content Marketing Institute
Lights Camera, Action, Trends in Video Marketing, Aberdeen Research
Infographic: Make Content Marketing Work in a Social, Mobile World, Brightcove
The New Content Marketer, Brightcove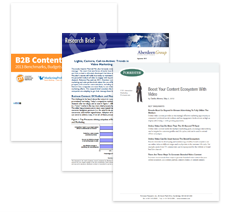 As the lines between traditional paid, earned and owned media continue to blur, more marketers are creating content designed to build engagement through direct-to-consumer channels and social media outlets. A new "content marketer" has emerged, and brands of all sizes are developing new strategies for engaging with their customers.
In this best practices research bundle from leading research firms and Brightcove, you will learn best practices for reaching your audience through content marketing.

content marketing best practices research bundle