HTML5 Video
Facts & Fiction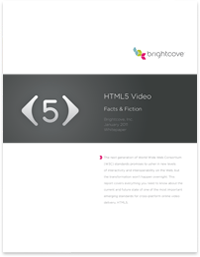 Over the last few years, bandwidth-intensive rich media have become core to interactive experiences on the Web. As the Web matures, the basic basic building-blocks of webpages (HTML) are finally updating to make rich media assets like video native to the Web.
The next generation of W3C standards promises to usher in new levels of interactivity and interoperability across all browsers, but the transformation won't happen overnight. This in-depth report covers everything you need to know about the current and future state of emerging standards for cross-platform online video delivery.
Download the report now and learn about
What HTML5 really is
How HTML5 makes video a core website element
Why HTML5 is important today
How HTML5 introduces new complexity
What the current limitations are for HTML5
How Brightcove Video Cloud supports HTML5 video
Best practices for HTML5 video with Video Cloud
Handy HTML5 resources list
HTML5 Video
All fields are required.