From Ads to Paid Content:
Monetizing Online Video
Business models and strategies for generating revenue with your video content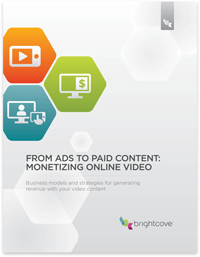 Advertising is only one way to generate revenue through online video. As consumers become accustomed to paying for online content, publishers and distributors are taking advantage of a wide range of business models and technologies to monetize their online video assets. This white paper explores the most popular and effective approaches, from ad-supported video, to subscription and transactional video-on-demand (VOD), to authenticated TV Everywhere experiences. You'll learn what it takes to support each model from a technology perspective, how to decide which model is right for your online video content — and the key factors for success for each.
Download the white paper now and learn about:
Ad-supported video, including ad sales strategies, strategies for ad formats and placements, and the technical infrastructure through which ads are delivered
Paid content strategies, including transactional video-on-demand (TVOD) and subscription video-on-demand (SVOD)
Hybrid models which combine paid content with advertising — an approach with key benefits for many content providers
Authenticated viewing models which extend pay-TV entitlements to non-TV devices like desktop computers and mobile devices
Supporting technologies to protect and secure paid content including encryption, verification, and DRM
From Ads to Paid Content:
Monetizing Online Video
All fields are required.