THE TRANSFORMATION OF TV
What it Means to Media Companies Today — and Beyond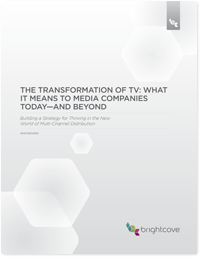 The dominance of traditional linear broadcast TV is over. Today's viewers watch video on screens of every description, from the smartphones in their pockets to smart TVs in their living rooms — and they expect a simple, convenient, and high-quality experience every time. Pay models are proliferating as well, from traditional ad-supported models to purchase, rental, and subscription for both live and video-on-demand content. For media companies, the transformation of TV presents powerful new opportunities to engage audiences and build revenue — but it also poses new challenges around content delivery, content protection, measurement, and scale.
This white paper discusses the implications of the transformation of TV for media companies and how they can implement a complete multi-platform strategy for the new world of TV with Brightcove solutions and best practices.
Download the whitepaper now and learn about
The proliferation of devices and destinations and how to extend your reach into social media, app stores, and other modes of discovery and access
New monetization models including advertising, pay-per-view, download-to-own, subscription, rental, and TV Everywhere (TVE), and the tools and technologies required to make them work
Content protection, from basic digital rights management (DRM) to more sophisticated technologies to support complex policies around payment terms and playback privileges
Measurement and insight across multiple dimensions, including viewer trends, engagement, syndication, search, geography, and quality of service, to optimize performance
Scale as a critical factor in the ability to provide a high-quality experience even during rapid audience growth or sudden spikes in traffic
Library management, including the use of third-party content to quickly expand the offerings you make available
Learn how to Build a Strategy for Thriving in the New World of Multi-Channel Distribution
All fields are required.