Like, Link, Share, Tweet
A How-To Guide to Video + Social Media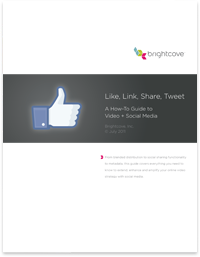 Social media and video together make a very powerful combination. Whether you are a media company syndicating your content to social channels or a brand marketer using social profiles to build awareness and nurture customer relationships, video and social media can work together to address wide-ranging business goals.
In this guide we'll talk about how social media platforms help you connect with your audience to maximize the reach of your content. We'll look at the scale of the opportunity, how video and social media supports key business goals, and share tips to optimize activity for each unique site.
Download the guide now to find out about
Is video social?
What's the state of the social media opportunity today?
How video and social media are a match made in heaven
Reasons your boss will care about social media
Metrics for tracking social video performance
Tips for producing good social video
Social video with Brightcove checklist and further resources
Like, Link, Share, Tweet
All fields are required.