Reach New Audiences in the Living Room with Brightcove Solutions for Apple TV®
From Sotheby's and AccuWeather to Mediaworks (New Zealand's largest independent broadcaster), and fast-growing kids brand GoNoodle, media companies and brands are choosing Brightcove technologies to extend their content to the fourth-generation Apple TV®.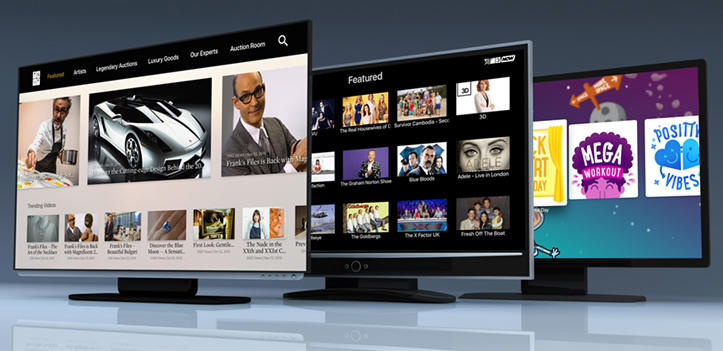 We offer a wide range of solutions to provide premium experiences for this exciting platform based on your business needs, including:
Brightcove Jump Start for Apple TV®
Quickly and affordably extend the reach of your video content to the new Apple TV®. Our world-class global services team will help you develop and launch a beautiful app that includes user experience (UX) design, high performance video playback, an easy-to-manage content catalog, and robust analytics. Sotheby's, the world-renowned auction house, used the Brightcove Jump Start solution to accelerate app development to become the first auction house with an app on the new Apple TV®.
Brightcove Once
Monetize video streams through server-side insertion of pre-roll, mid-roll, or post-roll ads to deliver a seamless, TV-like ad-supported user experience. Brightcove Once supports FairPlay® Streaming (FPS), Apple's digital rights management (DRM) format, for delivery of premium protected content. MediaWorks, New Zealand's largest independent broadcaster, uses Brightcove Once to power the monetized streams in the Apple TV® App for its catch up service, 3NOW.
Video Cloud and Brightcove Native SDK for tvOS
Build your own custom app by connecting your content in Video Cloud. The Brightcove Native SDK for tvOS enables companies to easily build apps that showcase their Video Cloud-housed content on Apple TV®, optimize video playback and capture analytics. Customers who have already deployed their own Apple TV apps powered by Video Cloud include, AccuWeather, Al Jazeera, and Eternal Word Television Network.